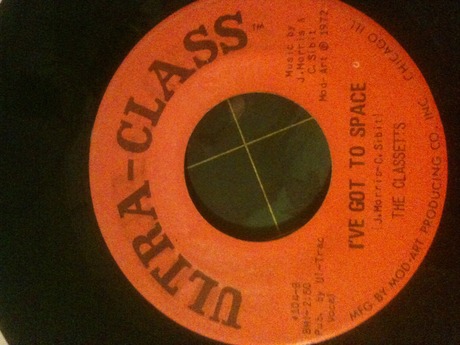 oday brings an absolutely choice funk 45 on the Chicago based label Ultra-Class courtesy of the Classetts. Though billed as the Classetts, usually an all male group, on this record they joined by the awesome talents of Georgianna McCoy who lays down an absolutely searing vocal track backed by the super funky classetts. This is the flip to the much heralded "I Don't Want Nobody Else" which is a nice funk/soul hybrid that McCoy also voices.
Ultra-Class was a subsidiary of the Mod-Art label and Distribution (along with Ultra-Sec Records) run by man about town Charles Sibit out of Chicago. Sibit was not only the business man behind the operations but also wrote and produced a number of the records released on his labels including co-writing this slice of sweetness. (The cynic could point out that label-dudes in his position often got "writing credits" in order to recoup even more on the record through royalties- see Alan Freed for the most publicized case- but Sibit released at least three records of himself letting loose.)
The Classetts were more or less the same group as "The Class-Set" which put out a number of 45s and LPs on both Ultra-Class and Mod-Art (including the same record featured here, but with lead singer Michael Quinn resuming his duties.)
In 2003 the publishing rights for the Ul-Trac publishing arm along with the rights for Ultra-Class, Ultra-Sec and Mod-Art Labels were sold which paved the way for the "Funky Funky Chicago" compilation that has made the flip to this record much more available. Though she's listed on that compilation separately this 45 doesn't make the distinction which is a little confusing because the record had already been released under the name "The Classetts" in 1972 on the same label. What's also frustrating is where the hell did Georgianna McCoy go? Can't find any other information about her out there; possible pseudonym?
There's a slightly interesting link to the "Mod Lads and Singers" record I'll be posting next, but all the liner notes aside, this record absolutely slays. So do yr download thing, sit back and enjoy.